Still working to recover. Please don't edit quite yet.
Uri Gordon
From Anarchopedia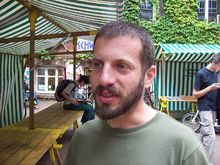 Uri Gordon (Israele, 30 agosto 1976 - ) è un attivista anarchico israeliano, un docente universitario e un militante di Anarchici contro il Muro.
Nato il 30 agosto 1976, Uri Gordon si è laureato all'Università  di Oxford. Gli studi e le ricerche svolte durante il dottorato sono poi sfociate nella pubblicazione del libro Anarchy Alive!: Anti-Authoritarian Politics from Practice to Theory, che gli hanno fatto acquisire una certa "fama" negli ambienti anarchici nazionali e internazionali.
Oltre ad essere un membro di Anarchici contro il Muro, è anche un attivista di Indymedia Israele, Dissent! e Peoples' Global Action, un'organizzazione che coordina diversi gruppi radicali europei in occasione di manifestazioni contro la globalizzazione. Ha inoltre pubblicato diversi articoli nei giornali «Anarchist Studies» e «Refractions».
Attualmente insegna politica ed etica ambientale nell' Arava Institute for Environmental Studies (Istituto per gli Stadu Ambientali) di Ketura (Israele), che accoglie studenti israeliani, giordani, palestinesi e da altre parti del mondo. Gordon ha inoltre pubblicato su The Jerusalem Post un articolo sugli anarchici israeliani (Right of Reply: Anarchy in the Holy Land!, 12 giugno 2007) in risposta ad uno anti-anarchico comparso sempre su Jerusalem Post e firmato da Elliot Jaeger (Power and Politics: Anarchy has its place, 23 maggio 2007).
I suoi studi attuali continuano ad essere incentrati sulle possibilità  dell'auto-organizzazione popolare, sul pacifismo, l'anti-autoritarismo e le politiche libertarie.
"Utopia in Contemporary Anarchism". In Lawrence Davis and Ruth Kinna (eds.), Anarchism and Utopianism (Manchester University Press, 2009)
"Anarchism Reloaded", Journal of Political Ideologies 12.1 (2007)
"Israeli Anarchism: Statist dilemmas in a joint struggle", Anarchist Studies 15.1 (2007)
"Practising Anarchist Theory: Towards a participatory political philosophy". In Stevphen Shukaitis and David Graeber (eds.), Constituent Imagination: Militant Investigation, Collective Theorization (AK Press, 2006).
"After the War" (Editorial), Anarchist Studies 14.2 (2006)
Review of William J. Fishman, "East End Jewish Radicals: 1875–1914"; Rudolf Rocker, "The London Years". Anarchist Studies 14.2 (2006)
"Αναρχία: What did the Greeks actually say?", Anarchist Studies 14.1 (2006)
Review of Paul Kingsnorth, "One No, Many Yesses"; Notes from Nowhere (eds.), "We are Everywhere". Perspectives on Anarchist Theory 8.1 (2004)
Review of Michael Albert, "The Trajectory of Change"; Starhawk, "Webs of Power"; John Holloway, "Change the World without Taking Power". The New Formulation 2.1
Collegamenti esterni
[
modifica
]