Still working to recover. Please don't edit quite yet.
Herbert Read
From Anarchopedia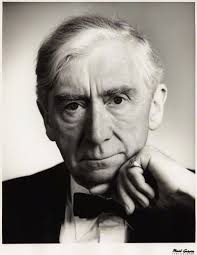 Herbert Edward Read
(Kirbymoorside,
Gran Bretagna
,
4 dicembre
1893
– Stonegrave,
Gran Bretagna
,
12 giugno
1968
) è stato un anarchico, poeta e critico letterario britannico.
Figlio di un agricoltore, dopo la morte del padre frequenta una scuola per orfani di Halifax ed a soli sedici anni viene assunto in una banca di Leeds. Il lavoro non gli impedisce di proseguire i suoi studi, studiando la sera e arrivando sino alla laurea all'università  di Leeds nel 1914.
Intraprende l'attività  di poeta e scrittore, che però viene interrotta bruscamente nel corso della prima guerra mondiale dopo la pubblicazione di Chaos (1915). Read combatte in Belgio e Francia, raggiungendo il grado di capitano. Durante la guerra fonda con Frank Rutter un giornale, Arts and Letters, con cui attacca le posizioni britanniche conservatrici. Dopo la guerra lavora in diversi settori ed approfondisce, pubblicando diversi lavori, tematiche riguardanti Kropotkin e Jung.
La sua prima dichiarazione in favore dell'anarchia risale al 1937, quando si schiera anche apertamente e pubblicamente contro i reazionari di Francisco Franco in Spagna. La sua conversione all'anarchismo sarebbe dipesa in primis dalla lettura di un libello di Edward Carpentier: Non gouvernemtal society (1911). Assistente aggiunto del Victoria and Albert Museum di Londra, lavorerà  come professore di Belle Arti a Edimburgo e insegnante in varie università  inglesi.
Alla fine della seconda guerra mondiale, dove assume posizioni pacifiste, critica il marxismo reiterando le proprie posizioni libertarie. Tuttavia, nel 1953, accettando l'onorificenza di knighthood (Cavaliere) per i servigi resi alla letteratura, riceve l'ostracismo di gran parte del movimento anarchico. In questo periodo si occupa di vari settori di lavoro letterario da lui sviluppati.
Filosofo politico e pedagogo, ma anche poeta, esordendo sotto l'influsso di Th. S. Eliot (alla cui rivista The criterion collaborò) e uomo di lettere. Tra le raccolte successive: Thirty-five poems (1940); A world within a war (1944); Moon's farm (1955). Convinto assertore dell'utilità  della psicanalisi per la critica, Read pubblica moltissimi studi su arte, estetica, anarchia (Poesia e anarchismo del 1938; Filosofia dell'anarchismo del 1940; L'educazione attraverso l'arte del 1943; Rivoluzione e ragione del 1953; Il mio anarchismo del 1966; ecc.) e la letteratura del suo tempo.
Herbert Read ha inoltre sviluppato un forte interesse per il tema della pedagogia e in particolare per l'arte come mezzo d'educazione, la cui critica è strettamente legata alla critica della società . Attribuendo un ruolo centrale all'arte (secondo Read la percezione artistica è prerogativa umana universale e non strettamente legata a pochi individui, i cosiddetti artisti), egli pensa in questo modo di sostituire all'educazione della mente l'educazione dei sensi.
Il suo anarchismo è stato influenzato da William Godwin, Petr Kropotkin e Max Stirner ed a sua volta ha influenzato anarchici britannici importanti come Colin Ward.
Vi sono ancora molte opere inedite e che verranno pubblicate
Songs of Chaos, 1915
Naked Warriors, 1919
Ecloques, 1919
Mutations of the Phoenix, 1923
ed. Speculations by T.WE. Hulme, 1924
English Poetry, 1924 (with B. Rackham)
In Retreat, 1925
Reason and Romanticism, 1926
English Stained Glass, 1926
Collected Poems, 1926
English Prose Style, 1928
Phases of English Poetry, 1928
The Sense of Glory, 1929
Staffordshire Pottery Figures, 1929
Julien Benda and the New Humanism, 1930
Wordsworth, 1930
The Meaning of Art, 1930 (first Am. ed. The Anatomy of Art, 1932)
Ambush, 1930
Form in Modern Poetry, 1932
Art Now, 1933
The Innocent Eye, 1933
Art and Industry, 1934
Henry Moore, Sculptor, An Appreciation, 1934
Essential Communism, 1935
Selected Essays and Critical Writings by A.R. Orage, 1935 (with D. Saurat)
The Green Child, 1935
Surrealism, 1935
Five on Revolutionary Art, 1935 (ed. by B. Rea)
Poems, 1914-1934, 1935
Art and Society, 1936
In Defence of Shelley and Other Essays, 1936
Art and Society, 1937
Collected Essays in Literary Criticism, 1938 (as The Nature of Literature, 1956)
Poetry and Anarchism, 1938
Annals of Innocence and Experience, 1940
Thirty-Five Poems, 1940
To Hell with Culture, 1941
Education Through Art, 1943
The Politics of the Unpolitical, 1943
The Education of Free Men, 1944
Paul Nash, 1944
A Coat of Many Colours, 1945
Collected Poems, 1946

The Grass Roots of Art, 1947
Klee, 1948
The Psychopathology of Reaction in the Arts, 1948
Education for Peace, 1949
Gauguin, 1949
Coleridge as Critic, 1949
Existentialism, Marxism and Anarchism, 1949
Contemporary British Art, 1951
Art and Evolution of Man, 1951
The Philosophy of Modern Art, 1952
The True Voice of Feeling, 1953
The Collected Works of C.G. Jung, 1953-1979 (20 vols., with M. Fordham)
Anarchy and Order, 1954
Icon and Idea, 1955
Moon's Farm and Poems Mostly Elegiac, 1955
The Art of Sculpture, 1956
The Tenth Muse, 1957
A Concise History of Modern Painting, 1959
Kandinski, 1959
The Parliament of Women, 1960
The Forms of Things Unknown, 1960
Creative Arts in American Education, 1961 (with T. Munro)
Truth is More Sacred, 1961 (with Edward Dahlberg)
Aristotle's Mother, 1961
A Letter to a Young Painter, 1962
ed.: The Acanthus History of Sculpture, 1962 - (4 vols., with H.D. Molesworth)
Lord Byron at the Opera, 1963
The Contrary Experience, 1963
To Hell with Culture, and Other Essays on Art and Society, 1963
Selected Writings, 1963
A Concise History of Modern Sculpture, 1964
Henry Moore, 1965
The Origins of Form in Art, 1965
Collected Poems, 1966
ed.: Encyclopedia of the Arts, 1966 (rev. as The Thames and Hudson Dictionary of Art and Artists, 1985)
Poetry and Experience, 1967
Art and Alienation, 1967
Selected Works of Miguel de Unamuno, 1967- (with others)
Arp, 1968
The Meaning of Art, 1968 (rev. ed.)
Essays in Literary Criticism, 1969
The Cult of Sincerity, 1969
The Correspondence of Sir Herbert Read, 1969 (pub. in S. Berne's The Unconscious Victorous and Other Stories)
The Redemption of the Robot, 1970
Pursuits and Verities, 1983
A One-Man Manifesto and Other Writings for Freedom Press, 1994