Still working to recover. Please don't edit quite yet.
Ethel Edith Mannin
From Anarchopedia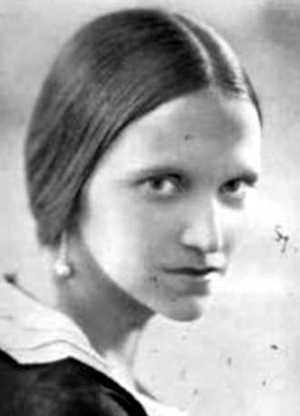 Ethel Edith Mannin
(Clapham,
Gran Bretagna
,
6 ottobre
1900
– Teignmouth,
Gran Bretagna
,
5 dicembre
1984
) è stata una scrittrice e una novellista britannica.
[1]
Ethel Edith Mannin nasce il 6 ottobre 1900 a Clapham, un sobborgo di Londra (Inghilterra). Di origine irlandese, è la più vecchia dei tre figli avuti dai socialisti Robert Mann e Gray Edith Mann.
Edith inizia a scrivere all'età  di sette anni e a 10 pubblica il suo primo scritto. Completata l'istruzione formale nel 1915, inizia a lavorare nella concessionaria pubblicitaria di Charles F. Highman. Nel 1917 diviene redattrice capo del quotidiano sportivo e teatrale The Pelican, incarico che mantiene fino al 1919 quando la rivista cessa le pubblicazioni. Quello stesso anno si unisce in matrimonio con Alexander Porteous, che per un certo periodo aveva lavorato presso l'agenzia Highman e in seguito diventerà  direttore generale, dal cui rapporto nascerà  un figlio: Jean.
Nel 1923 presenta il suo primo romanzo in un concorso letterario, in cui vince un premio; però, nonostante il riconoscimento, il suo romanzo non sarà  pubblicato. Due anni dopo ottiene il suo primo successo commerciale e di critica con la novella Sounding brass.
Nel 1930 pubblica la sua prima autobiografia, Confessions and impressions, che era considerata abbastanza scandalosa per l'epoca, in quanto descrive la sua relazione extraconiugale e i suoi costumi bisessuali. Il biennio 1934-1935 è molto intenso, ma anche problematico, a causa della sua relazione sentimentale con il poeta William Butler Yeats; per un certo periodo è anche l'amante di Bertrand Russell. A poco a poco diviene una prolifica scrittrice (in tutto ha pubblicato oltre un centinaio di libri - romanzi, viaggi, autobiografie, libri per bambini e racconti educativi, ecc -), scrive almeno un libro all'anno, molto spesso incentrati su questioni politiche e sociali: le donne lavoratrici, il femminismo, la sessualità , il pacifismo, l'anarchismo, la guerra civile spagnola, l'anticolonialismo, l'agnosticismo, ecc. Grazie ai suoi libri, moltissimi lettori di lingua inglese saranno introdotti all'anarchismo. Anche se gran parte della sua vita l'ha trascorre in Inghilterra (Wimbledon e Devon), per un certo periodo vivrà  anche in Connemara (Irlanda). Inizialmente di idee socialiste, milita nel Independent Labour Party ma già  dagli anni '30 comincia a ricredersi sul socialismo, specie dopo il viaggio compiuto in Unione Sovietica nel 1936. Con lo scoppio della rivoluzione spagnola, Mannin si schiera con gli anarchici e gli anarcosindacalisti, sostenendo attivamente il gruppo Solidarietà  Internazionale Antifascista (SIA), in cui milita anche Emma Goldman e a cui peraltro dedicherà  un saggio intitolato Red Rose: A Novel based on the Life of Emma Goldman (1941).
La Mannin in questo periodo dedica assai poco tempo al marito, preferendo invece la compagnia di scrittori e politici di sinistra, così il matrimonio entra in crisi e i due divorziano nel 1938. Quello stesso anno si sposa con Reginald Reynolds, un quacchero attivista per la pace e amico del Mahatma Gandhi.
Dopo la nascita dello Stato d'Israele (1948), Edith Mannin assume posizioni antisioniste e si attiva in favore dei profughi palestinesi, alla cui causa dedica molti articoli. In quell'anno pubblica uno dei suoi romanzi più popolari, Late have I Loved thee.
Nel 1958, dopo la morte del suo secondo marito, viaggia in quasi tutto il mondo e scrive molte novelle e libri per bambini. Nel 1975 si ritira dall'attività  letteraria.
Ethel Mann muore il 5 dicembre 1984 presso l'Ospedale Teignmouth (Devon, Inghilterra), in seguito a complicanze della frattura del bacino provocata da una caduta avvenuta nel luglio precedente nella sua casa di Shaldon.
Confessions and Impressions (1930)
Privileged Spectator (1939)
Connemara Journal (1947)
Brief Voices (1959)
Young in the Twenties: A Chapter of Autobiography (1971)
Sunset over Dartmoor: A Final Chapter of Autobiography (1977)
Martha (1923)
Hunger of the Sea (1924)
Sounding Brass (1925)
Three New Love Stories (1925) with Warwick Deeping and Gilbert Frankau
Pilgrims (1927)
Green Willows (1928)
Crescendo, Being the Dark Odyssey of Gilbert Stroud (1929)
Children of the Earth (1930)
Ragged Banners (1931)
Bruised Wings and Other Stories (1931)
Green Figs (1931) stories
The Tinsel Eden and Other Stories (1931)
All Experience (1932)
Linda Shawn (1932)
Venetian Blinds (1933)
Dryad (1933) stories
Men Are Unwise (1934)
Some Adventures With A School (1934) with Margaret Johnston
Cactus (1935)
Forever Wandering (1935)
The Falconer's Voice (1935)
South to Samarkand (1936)
The Pure Flame (1936)
Sounding Brass (1937)
Women Also Dream (1937)
Women and the Revolution (1938)
Rose and Sylvie (1938)
Darkness My Bride (1938)
Rolling in the Dew (1940)
Commonsense and Morality (1941)
Red Rose: A Novel based on the Life of Emma Goldman (1941)
Captain Moonlight (1942)
The Blossoming Bough (1942)
Castles in the Street (1942)
Proud Heaven (1943)

No More Mimosa (1943)
Bread and Roses: An Utopian Survey and Blue-Print (1944)
Comrade O Comrade, or, Low-Down on the Left (1945)
Lucifer and the Child (1945)
Selected Stories (1946)
The Dark Forest (1946)
Bavarian Story (1948)
German Journey (1948)
Late Have I Loved Thee (1948)
Jungle Journey: 7000 Miles through India and Pakistan (1950)
At Sundown the Tiger (1951)
The Fields at Evening (1952)
The Wild Swans and Other Tales Based on the Ancient Irish (1952)
This Was a Man: Some Memories of Robert Mannin by His Daughter (1952)
Lover under Another Name (1953)
Moroccan Mosaic (1953)
So Tiberius … (1954)
Two Studies in Integrity: Gerald Griffin and the Rev. Francis Mahony ('Father Prout') (1954)
Land of the Crested Lion: A Journey through Modern Burma (1955)
The Living Lotus (1956)
Pity the Innocent (1957)
The Country of the Sea: Some Wanderings in Brittany (1957)
Fragrance of Hyacinths (1958)
Ann and Peter in Sweden (1959)
The Blue-eyed Boy (1959)
Ann and Peter in Japan (1960)
The Flowery Sword: Travels in Japan (1960)
Sabisha (1961)
nn and Peter in Austria (1962)

Curfew at Dawn (1962)
With Will Adams Through Japan (1962)
A Lance for the Arabs: A Middle East Journey (1963)
The Road to Beersheba (Hutchinson, 1963).
Aspects of Egypt: Some Travels in the United Arab Republic (1964)
Rebels' Ride. A Consideration of the Revolt of the Individual (1964)
Lovely Land: The Hashemite Kingdom of Jordan (1965)
The Burning Bush (1965)
Loneliness: A Study of the Human Condition (1966)
The Night and Its Homing (1966)
The Lady and the Mystic (1967)
An American Journey (1967)
Bitter Babylon (1968)
England for a Change (1968)
The Saga of Sammy-Cat (1969)
Practitioners of Love. Some Aspects of the Human Phenomenon (1969)
The Midnight Street (1969)
England at Large (1970)
Free Pass to Nowhere (1970)
My Cat Sammy (1971)
England My Adventure (1972)
The Curious Adventure of Major Fosdick (1972)
Mission to Beirut (1973)
Stories from My Life (1973)
An Italian Journey (1974)
Kildoon (1974)
The Late Miss Guthrie (1976)
Collegamenti esterni
[
modifica
]